Now that we are firmly into Autumn, I've rediscovered my love for long soaks in the bath. I love bubble baths all year around, but when its hot and humid in the summer months it just seems like a chore! However, now I can enjoy the long hot soak in a bath after a long day or when its freezing cold and dark outside. I use a whole array of bath products, but when it comes to bath bomb type products Lush is definitely my favourite!
One of my all time favourite products from Lush is The Comforter bubble bar which is something I purchase time and time again. The comforter retails for £4.50 and here's what Lush have to say about it '
"This isn't called the Comforter for nothing. We threw everything we had at this one, to make it warming, comforting and reassuring. We wanted a bath that gave the same sense of safety and calm that your favourite teddy, your comfort blanket or a snuggly scarf gives.At times when you feel you need to protect yourself from the world - immerse yourself in this pink bath and allow the familiar oils to envelop you in a comforting berry scented embrace"
Well.. if that description doesn't want to make you buy it, then I don't know what will! It really is a lovely product, it leaves a silky texture to the water and release a beautiful pink colour leaving you with rather pretty bath water with a mountain of bubbles. It smells sweet, fruity and delicious with it's main scent being blackcurrant, it's almost like a bowl of sweeties and to me - this is the signature Lush smell. Whenever I think of Lush, this smell is what comes to mind. The Comforter is twice the size of the normal bubble bars and although it comes in at the higher price of £4.50 I always get a least 4-5 uses out of one bar - so it's actually pretty good for the money!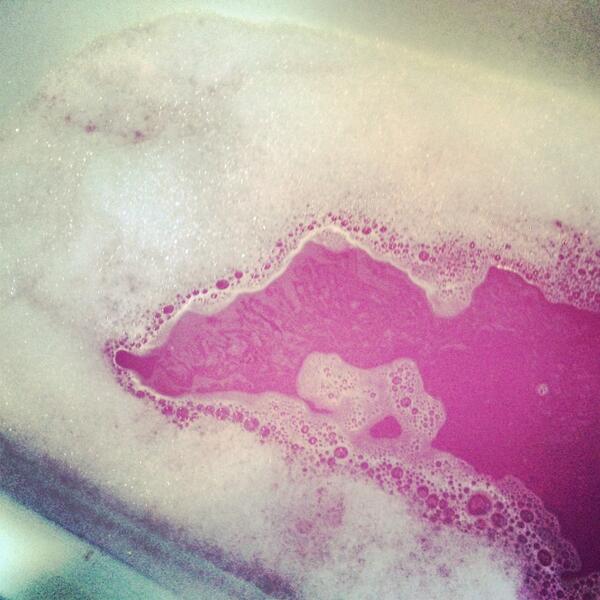 Ahhh - doesn't that just look amazing. Some times I really wish I could just stay in a nice warm bubble bath all day, reading trashy gossip magazines and contemplating life. But I can't so for now I'm going to enjoy using up some of my bath time products and increasing the amount of 'pamper' time in Autumn/Winter - just because I can!
I'd definitely recommend the comforter to any of you lovely ladies that are a fan of all things sweet, pink and girly - it really is a treat and unlike other bath bombs/bars this lasts you a few uses. Have you tried this before? If you have any Lush recommendations please let me know in the comments!